University Partners
Learn More about our partners.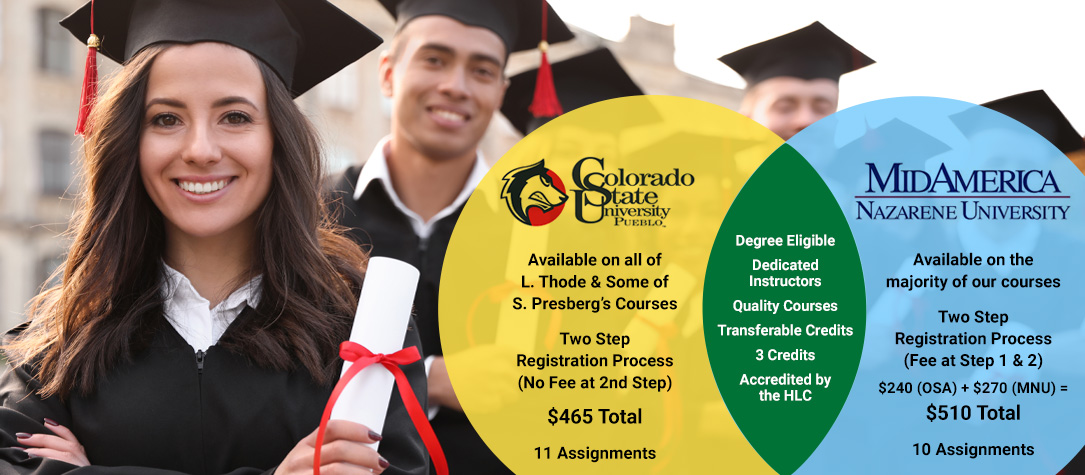 Colorado State University- Pueblo
Colorado State University Pueblo was founded in 1933. They are known for their small class sizes, nationally recognized faculty, flexibility for distance learning, and career-relevant experiences for all students.  They have a well-deserved reputation as one of the leading institutions in its state. Their 275-acre campus is located just two hours south from Denver.  Their Master of Education program prepares teachers of quality and distinction.  The joint efforts of students, faculty, and administrators across all partners focus on improving the quality of learning in classrooms in elementary, secondary, and higher education.
MidAmerica Nazarene University
MidAmerica Nazarene University provides quality academics, small classes, online options, and an overall commitment to education. Their 105-acre campus is located in Olathe: the fifth-largest city in the state of Kansas. MidAmerica Nazarene University has a 40-year history offering premier teacher education. With an emphasis on technology integration, their undergraduate, graduate and certificate programs are taught by highly qualified faculty who prepare teachers for the 21st century classroom.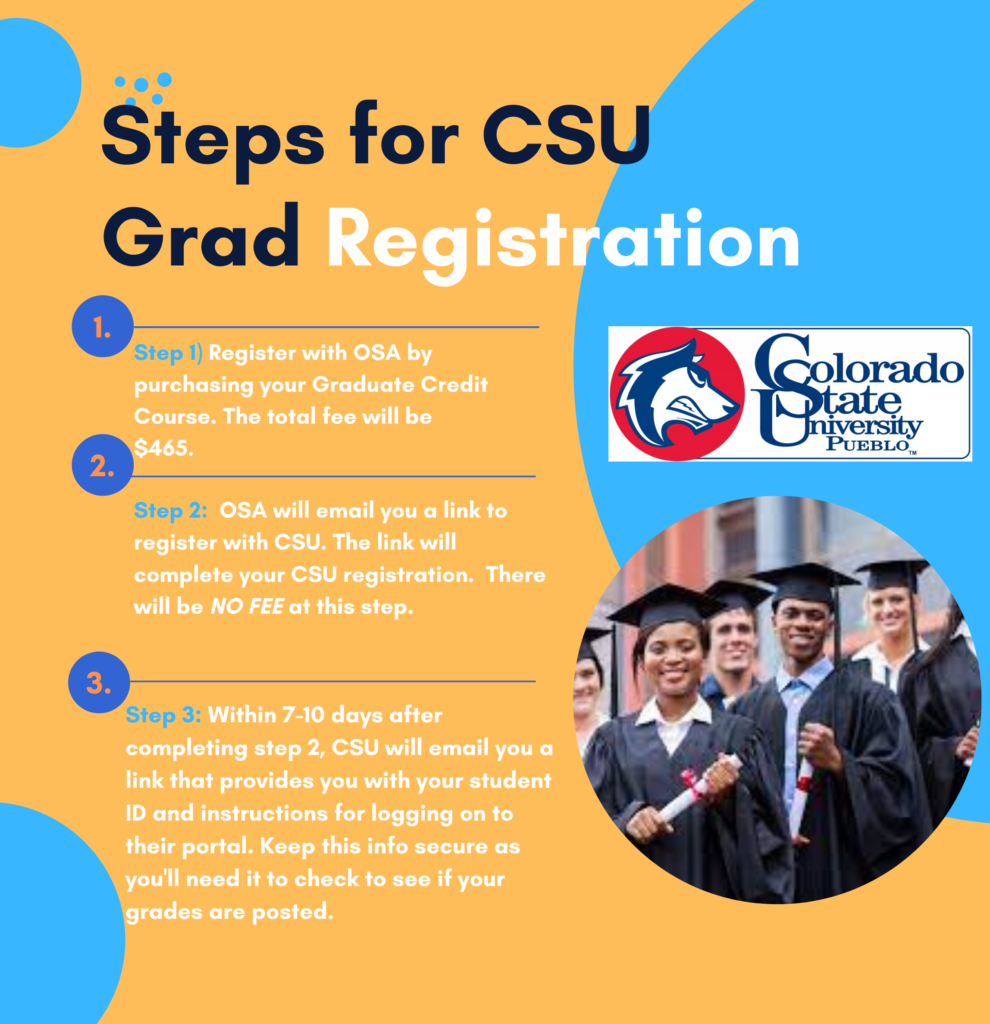 Quick Reference Guide
Step 1: Register for your course with your Provider (to include payment made to the Provider).
Step 2: Complete the online registration with CSU Pueblo Once you submit, you will receive an email confirming your registration. There will be a registration number in this email, and it may be helpful to document it and send to your provider for proof of registration. You need only to register ONCE per course that you're taking. Please make sure you register for the correct course.
Step 3: Following your online registration, you can expect a follow-up email that will provide you with your NET ID number. You can expect this email approximately 7-10 days later. Keeping record of your NET ID number is encouraged. This will be your student record number for CSU Pueblo. For existing students, your PID will go away and you will now use your NET ID, make sure you have activated your NET ID. For new students who did not have a PID you must activate your NET ID to have access. Link to activate NET ID.
Step 4: Once your coursework is submitted to your provider and they've sent us your grade, we will enter it. This process can take up to 14 business days.
Step 5: A notification will NOT be sent out when your grade is transcribed, rather, you can periodically check your unofficial transcripts on your Student PAWS account to see when the grade is posted.
Step 6: To log in to your PAWS account, please see the instructions provided in the email you received with your NET ID number.
Step 7: Official Transcripts can also be ordered through your Student PAWS account OR with this link.
You must create a separate account in PARCHMENT to order your official transcript.
Please visit the "Students" tab on our webpage for additional helpful information.
If you have any questions or concerns, please contact the Teacher Education Program Specialist at 719-549-2048, Jonni Valdez-Silva
Official Transcript Request New Process
The student's CSU Pueblo PAWS account is used for unofficial transcripts only.
The NEW process to request their official transcript is the following;
Refer students to Order official transcripts
If the student has never used PARCHMENT for this service, the student will have to create an account in PARCHMENT. Once the account is created, you can select CSU Pueblo as the institution from where the student can request the official transcript.
Please see updated prices and information;
Electronic transcripts ($11) are generally sent to recipients within 24 hours of placing the order through Parchment.
Paper transcripts ($13 plus delivery) are mailed out the next business day.
Student pick-up is not currently available due to COVID-10.
Official Transcript Delivery & Pricing
Electronic Transcript $11.00
Paper Transcript $13.00
Mailing Fees
USPS Domestic $2.50
USPS International $5.00
Fed Ex Express Domestic $25.00
Fed Ex International $47.50
If you have any questions or concerns, please contact the Teacher Education Program Specialist at 719-549-2048, Jonni Valdez-Silva
Use the above information to guide you through the CSU registration and transcript process. Contact jonni.valdezsilva@csupueblo.edu or call
719-549-2048
with any questions pertaining to the CSU process, grades, registration, or transcripts.
Use the below information to guide you through the MNU Registration. Contact med@mnu.edu or call
913-971-3292
with any questions pertaining to the MNU process, grades, registration, or transcripts.
Elevate Registration Details
Use the link provided to you by your service center to register for your course.
New Registration Process: everyone is considered a new student until your account is created.
Enter the following information: First Name, Last Name, and email address
Select: New Account
Your Details: Complete the required personal information. Click next.
Create Account Page: The email populates from the previous form as the username. Choose password. Confirm password. Choose security question and enter answers. Click next.
Address Details: Fill in required fields. Click next.
Personal Data: This information is optional and collected for reporting purposes. It will be kept confidential. Click next.
Additional Survey Questions: If applicable, answer the survey question(s). Click next.
Your Curriculum: select source option. Click next.
Verify your curriculum information is correct. Click next.
Payment: Verify correct course fees. Click next.
Enter payment information. Note: If any corrections are to be made during this process, you will need to re-enter expiration date and security code. Click continue.
Verify information and click submit payment.
Review payment amount and click next.
Verify enrollment completion information. Then click print or exit.
You will receive an email with your account setup confirmation.
Notification emails regarding your completed enrollment and payment will be send to the email address provided.
Contact our office with any questions med@mnu.edu or 913-971-3292 or 913-971-3439